Sudbury Local and Online Retailer of Wood Stair Treads: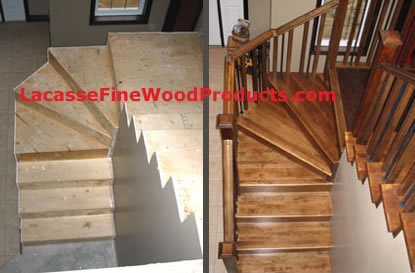 These stairway treads are custom designed to fit your needs.. in the shape you require, the length you need and the type of wood you desire. They are designed to be glued down on top of a construction set of steps.
The picture on the left shows the plywood structure and the picture on the right shows the same set of stairs after the solid woods treads have been put in place. This two stage installation has some real financial and installation benefits so keep reading.
New Home Construction:
These treads are used to recover a set of construction stairs, with hardwood planks and end with a spectacular solid oak stairway. The focal point of your new home.
This is a two step approach. You build a working set of construction steps in the location and design that you'd like to end with. All of your trades people can use this to get from floor to floor in the construction phase without worrying about damaging any finished surfaces.
Then when all the dirty stuff has been done and painting has been completed you install on top of these construction stairs, a fine hardwood plank. Steps of this design are glued over top of the existing rough stair structure to create a solid hardwood finish, saving you thousands of dollars when compared to other construction methods. (see picture above)
This is a MUCH simpler construction method especially for any and all DIY 'ers that don't make stairs as part of their daily routine. The structural part can be assembled with traditional screw and glue techniques as NONE of this will show when you're done .. that REALLY takes the pressure off!
Renovation:
Many of my clients have older homes that have stairs covered in vinyl tile or carpet. They are starting to look tired and outdated.
These recover stair treads can be used in the same way, to rejuvenate or reface these old indoor stair treads with hardwood planks in a wood to match your existing decorating without destroying the entire house and breaking the bank!
It is a method that the average woodworker can accomplish, with great success and limited experience. We walk you through the process and share all the tricks.
These wood stair treads can be used on their own or in a combination of hardwood stairs and carpet runner.
At Lacasse Fine Wood Products, we make all the parts you need to facilitate this type of renovation project: to recover an existing set of construction stairs with the beauty of real hardwood planks. Contact us today .. send along some specifications, and we'll get right back to you..
We make it happen with these options:
Square Ended or Triangular (for spiral stair treads or 90° turning landings )
Finished Ends: selection of classy choices when mounting spindles on the end of your step
Quarter Round Starter Treads: first step at the bottom when it wraps a wall
Half Round Starting Steps: first step at the bottom when it wraps a stringer
As a wood stair treads online retailer sometimes our customers are thousands of miles away so we just encourage you to make paper patterns for any unusually stair treads and send them through the mail. That way mistakes are avoided and we can clearly understand what you need. It takes a few more emails and time for snail mail to do its thing but it works and we've been doing it that way for over 6 years with great success
Some "Wood" Choices:
Choice is particular important today as we see a lot of exotic hardwood flooring on the market in woods like Brazilian Cherry, Santos Mahogany, and many others where I can't even pronounce the name, let alone know all about them.
We also think it is important to get the right colour mix in our traditional North American wood species. So we try and create a stair tread consistent with the flooring that you are trying to match… colour variable with all the shades of wood naturally found in the species of choice, or colour consistent where that is the more appropriate appearance, in which case we hand select the wood before glue-up.
Birch Stair Treads:
Brazilian Cherry & American Black Cherry Stair Treads:
Mahogany Steps
Maple Stair Treads
Red & White Oak Stair Treads:
Hardwood Steps can be made in almost any wood species, size and shape, so that it not only fits your existing stairs but looks beautiful with your new hardwood flooring. Email today .. send along some specifications, and we'll get right back to you..
Brazilian Cherry, Santos Mahogany, Tigerwood or a Walnut fine hardwood plank. Steps for the wood snob!
Doing the job the right way.
You know the old saying, "its all in the details."
Any company can provide you with the standard square edged treads for stairs, but only Lacasse will make you all the bits and pieces that you need to finish off unusual corners in unusual woods in unusual shapes! We even make handrail in these woods as well if that's what you need.
Stair Mouldings: all the trim you need to finish the corners so the job looks professional.
Stair Landings: how to finish a landing caught between two sets of stairs
How to "finish" your hardwood steps 
Residential Building Code: a few important measurements to make your steps safe!
Shipping:
We have shipped stair treads, wood and metal spindles & handrails across Canada.
Contact us today .. include 1. type of wood, 2. length left-to-right, 3. depth front to back, 4. a photo to answer questions 🙂
We'd love to talk to you about what we can do to help on your next home renovation project to recover your hardwood stairs! We're a small 5 person company and work hard to offer the knowledge and product to make it right….. but maybe not a quick as amazon lol