Natural Red Oak Stair Treads
Red oak stair treads are the most common and cheapest, but we also manufacture White Oak Stair Treads on request… a trend today, as the designers colour pallet has moved to grey-white overtones, more consistent with the natural colours of white oak and away from the pinky-orangy colours of the red oak.
A natural oak stair tread, as with all of our exotic hardwood steps, is guaranteed to be sanded to a quality finish, bullnosed on the front edge, and the ends finished according to your needs for simple and easy installation. Our meticulous attention to fabricating treads to fit your layout makes installation of these natural oak stair treads, a simple walk in the park.
Know the type of oak you have and buy the right oak steps to match. Ask your flooring supplier, if you need help. Mirage Hardwood Flooring, the brand carried at Lacasse Fine Wood Products, is  made in both RED and WHITE oak.
Red Oak Stair Treads: Select & Better Grade

Oak Steps, particularly the red oak stair treads, as suggested earlier, are our most common wood step- Oak, Select and Better Grade, made with premium red oak from Central North America, selected for colour, consistent with the typical Select & Better grade of North American hardwood flooring. The wood grain pattern can include both the linear and flame pattern in each board.
Red Oak Stair Treads: Rustic Grade

We do make oak stair treads occasionally, that have much more color and natural character then our selected grade, just need to ask.  As with Mirage character grades of flooring, these oak steps  typically have a lot more colour variation and the occasional knot.
White Oak Stair Treads: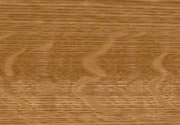 White oak stair treads always have some degree of colour variation…. as a comment on the natural woods tones we are starting with….. a range of colour from the whiter tones of the sap wood to the darker gray tones of the heart stock.
Often includes fleck (cross section of cells) common in rift cut white oak, less so in flat sawn, ask for a demonstration if you are unfamiliar with this designation.