Box Newels for Interior Handrails
For years an interior railing was built with a traditional turned newel posts and matching turned spindles, but in the last few years decorating trends have moved towards more square posts with matching square spindles or metal balusters.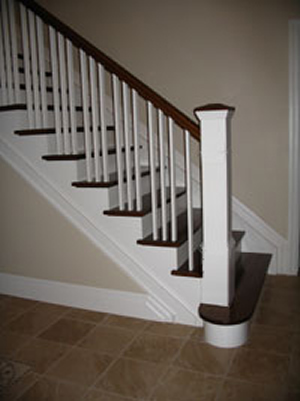 Here's an idea of what we manufacturer in Sudbury … All designs on display in our local showroom. Do visit and we'll help you sort out what you need and what you like!
Lacasse typically carry ready made in-stock perfectly square posts 3 1/4″ or 4 1/4″ square in various woods and various lengths.
Red oak and hard maple are the two most common wood species available for box newels, but Lacasse has also made Brazilian Cherry, White oak,  Walnut, Birch and Black Cherry…and a less expensive wood for painting applications. In fact we are pretty good in making these posts in just about any wood that we can find.. even tigerwood.
So once you select a square post they get customized to fit your needs. Here's a few of the more common options; size, with or without a cap, with or without coving or fluting, or shaker. Download our PDF design guide for Box Newels as an aid in helping you figure out your preferences.
Square Newels: 3 1/4″ or 4 1/4″ Square

Basic square newel posts manufactured at Lacasse.. The starting point of all the various patterns you see below. Either size meets building code requirements. The choice between larger or smaller is usually a function of the space they are going to be installed in…. tighter rooms & narrower steps = smaller post, … an open cathedral ceilings & wider steps = larger post.
Length Specifications:
42″ Box Newels:  Typically used on all horizontal surfaces, ie like wrapping around the hole in the floor, that protects you from falling down the steps.
Lacasse manufactures all 42″ newel posts,  in SUDBURY,  in a very unique way. All attachment holes for floor mounting, are incorporated into the design of the post. With the purchase of a special Newel Mounting Kit, you can install all your nosing and flooring FIRST and then in a two step process, bolt this newel post to the floor. No threading into the floor is required , so it does not damage any new floor installation, and does NOT require access to the floor joist below!
48″  Box Newels: used mostly at the bottom of the stairs. The bottom of the post is typically notched out to sit half on the lower step, and then glued and screwed into the first riser. 3 1/4″ newel posts are solid wood, and larger newels are semi-hollow, but both have a minimum of 15″ of solid wood from the bottom up for secure, through-the-post mounting.
Square Box Newel with Angled Top + Coved Edges

Square newel, with 45° Bevel cut top + coved edges (20″ pattern). The coving eliminates some of the sharp corner to give better wear characteristics.
Square Box Newel with Cap + Coved Edges

They come with a cap added to the top of the post and a small moulding wrapped around the underside of the cap. The 4 edges are coved for 20″ in the middle of the post. Again, this helps to take the sharp edge off the corners that tends to take a little abuse from the vacuum hose and the toys of any younger occupants in the house. But again if you would like the cap and not the coving, you just have to ask. All post decorated to order.
Options: Same post but skirt and mid-post moulding added.

Square Box Newel with Cap + Fluted Faces

This post is similar to the one above with the same cap on top, but instead of coving the corners of this Box Newel have been fluted.
Options: Fluted as above, skirt and mid-post mouldings added

Square Box Newel with Cap and Shaker Detail

A CNC router is used to machine the "shaker recess" in a solid wood face. This creates continuity of grain between the highs and the lows, producing consistent stain results during the finishing process. A double machining path creates "square corners" around the perimeter.  Small detail, but builds a more authentic looking solid wood post.