Wood Vents To Match Your Hardwood
Adding a real wood vent cover to frame your hot or cold air ducts is the perfect finishing touch for your new floor… They come in a number of designs depending on whether you wish to install them at the time of flooring installation, or just drop them in afterwards.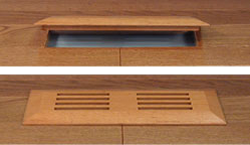 Self Rimmed Vents for Insertion into Hardwood Flooring
Designed in much the same way as the metal or plastic version, but of course made in a wood to match your flooring. It is dropped into a hole in the floor after installation.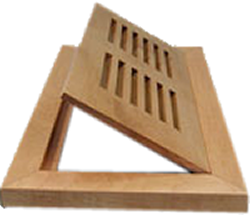 Flushmount Vents
This vent is made in two pieces, one frame + a drop-in insert as shown in the picture. The frame is installed in the appropriate location on the floor (lined up with your duct pipe) and then your hardwood flooring is wrapped around the outside of the frame. It is designed to lay flush with a 3/4″ thick floor when all is said and done.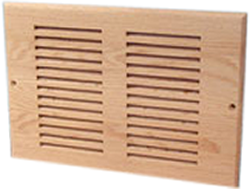 Baseboard Vents
Baseboard floor vents are a one 3/4″ thick piece of wood, grooved with a set of vent holes. It is designed to mount flat onto the wall with baseboard butting up to each side of the vent. The edges are round on the left, top and right, but NOT at the bottom where it meets the floor.
Standard Sizes
Hot Air Vents:

2 1/4″ x 10″, 2 1/4″ x 12″, 2 1/4″ x 14″
3″ x 10″,
4″ x 10″, 4″ x 12″

Cold Air Return Vents:

6″ x 12″, 6″ x 14″, 6″ x 24″, 6″ x 30″
8″ x 12″, 8″ x 14″, 8″ x 24″, 8″ x 30″

Custom Sizes are made ONSITE so just send us the math, see below…
Wood & Finish Choices
Finishes: all vents are available  UNFINISHED only
Woods: Floor vents are pretty well available in all the common woods that you find in flooring.
Measuring for your vents
Air Vent Covers are measured based on the size of the metal ducting that it must fit into… thus the most common size of ducting today and thus the most comment vent size, is 4″ x 10″, but the actual vent is larger then that to lip over the edge.
When you wish to order a vent, let us know what size your duct is and the design you would like and we will confirm availability and finished size.
Custom sizing and a full range of local and exotic woods, are available in most designs.. email or phone to find out what options are available