Mirage Hardwood Flooring, Sudbury, Ontario
The Cat, the Dog & the Kids? What to buy for durability?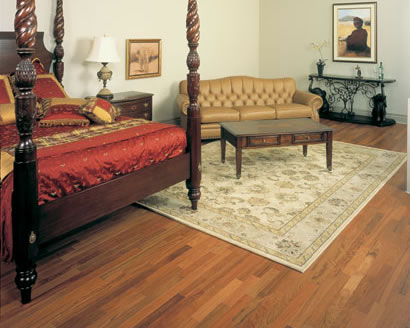 Having sold flooring for 25 years, the wizard knows that what you're looking for is a product that will stand up to the abuse of real living. Find out what to look for? Why we believe in the brands and products we sell, and why you won't find any flooring that has been floating across the ocean for 4 months, being sold at Lacasse.
…further information on Buying Hardwood Flooring
Which wood, would be best? .. oak, maple or exotics?
This isn't such an easy question as we all balance the "wood love affair" with the realities of daily living and the stress life puts on your home environment.. but here's some ideas on the goods and bads of various wood species used for hardwood flooring.
Why the love affair with Mirage Hardwood Flooring?
It wasn't a blind love affair with Mirage, but rather a proven track record. We installed 1,000 Feet of Mirage Wood Flooring in our showroom… its seen more than 15 years of winter boots and industrial traffic… visit and check it out and see how YOU think it has stood the test of time! …more reasons why we only sell Mirage Hardwood Flooring
Classic series: a traditional solid wood hardwood for on and above grade applications.
Engineered hardwood: for below, on and above grade and over radiant heating systems.
Mirage Lock™, a wide plank floating floor: that even your 10 year old can install. I've installed a lot of floors in my life, but nothing as easy as this! .. and it doesn't separate on the ends either.
Install it with Brains or Braun?
Too much muscle on the power nailer will cause stress cracks. Lining up the floor with the right wall will make all the difference on the final appearance, after all what home has all straight walls? Installing your own floor?.. learn a few tricks to increase your odds of success.
…further info on installing your own hardwood flooring.
Hardwood floor mouldings: reducers, nosings, transistion strips 3′ to 12′
Natural wood air vents: made in all wood species and custom sizes
Hardwood floor care? .. dump the vinegar and lemons!
It's always sad to see a floor we have installed, being destroyed by improper care… the seams go black and the finish looks dull…. Follow the wizard's advice on how to make your new hardwood floor look great for many years to come!
click HERE for further info on how to take care of your hardwood floor