Hardwood Stairs All Shapes and Sizes
These hardwood stair treads can be used to reface your construction steps in the new home construction phase or to replace some old and worn out carpet or vinyl tile.
Hardwood stairs are made from solid laminated wood….. NOT veneered particle board like the imports, or low grade lumber wrapped with a nice veneer to look pretty. Our hardwood stair treads are fabricated right here in Sudbury, ON from solid 1″ thick premium grade timber, sized and shaped to your dimensions. Here's a few of you options.
Exotic or Not Hardwood Planks?
Stairs are from wood, colour sorted (or NOT) dependent on your decorating preferences, and in woods from zebrawood to brazilian cherry — Our wooden stair treads are made in a wood species and/or a rustic flavour to compliment your existing decorating, ..you choose and we'll make it! Use the menu at the left to see so examples of stairs in your wood of interest.
Here are some of your "shape" options… although truly with our new computerized machining we can now make just about any size you can dream of
Standard Hardwood Stair Treads:
There are many ways that you can make a recover hardwood stair tread. But we persist in making it the old fashion way.
1″ thick across the entire depth of the tread…. NOT  notched at the front like a nosing… so no weak point at the transition and easier to install professionally
solid wood, NOT a particle or sawdust core
cut to the depth you need, typically between 9″ and 11 1/4″ .. so you don't have to have a table saw handy for trimming
length .. whatever you need
" standard" wooden stair treads are rounded on the front edge, with square ends, designed to butt up against a wall or solid stringer
top face is nicely sanded and ready for finishing, but back face may have defects where it doesn't show. This allows us to use more of the tree and be more environmentally conscious.
Finished Ends: Standard Bullnose End: (Right End Shown)
Our typical wood stair treads are cut square on both ends.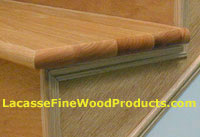 For open sided stairway treads where you have spindles sitting directly on the end of the step, you need a "finished end".
We round over the end grain to create this finished side. Staircase treads designed in this way can have a finished end on one or both end. We build according to your needs
To order a stair tread with a finished ends, you stand at the bottom of the steps look up and define as Right (R) or Left (L) end bullnose required as suggested from that position.
3 Stair Tread Winders ( right hand shown in drawing below)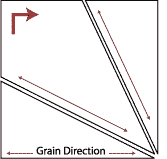 Frequently in smaller homes stairs change direction via 3 oak stair tread sets.
These are made to custom size and shape but are typically designed for a 42″ or 48″ landing.
We always design and bulid our treads with the grain running parallel to the front leading edge. It may sound like a small detail, (and it is), and it does take more work and more wood, but it wooks so much better with the lines in the wood running parallel to the front edge.
To guarantee accuracy we have you mail paper patterns or templates that we use as a guide, add a little extra wood to these sizes and then you can custom trim onsite.
Photo: (top of the page) 3 stair tread set of pies made out of Yellow Birch and turning to the left… again they are always ordered starting at the bottom of the steps and looking up.
Starting Step: with Half Round ( left-hand shown )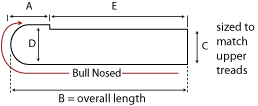 A Half Round Oak Starting Step is bull nosed along front and around one or both ends. They are custom sized for length, depth & location of notch to fit your "step box", leaving a standard 1″ lip all the way around.
The standard diameter for the half round end is 12″, but other sizes are available on a custom order basis.
Drawing: Starting step with left end finished… more info on half round starting steps
Starting Step with Quarter Round ( Picture: both ends )


A Quarter Round step is also a starting step, bull nosed along front and around the finished end(s). As with all other hardwood stair treads they are custom sized for length, depth and curvature.
Photo: Starting Step with customer cutting out back to wrap around the wall. See here for more information on quarter-round starting steps.
Custom Shapes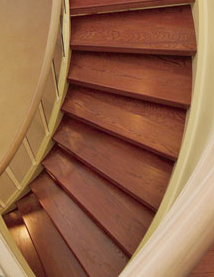 We make a tread for stairs of all shapes and sizes based on a paper template that you provide. You can easily send patterns through the mail with all the details marked on the top face for Lacasse Fine Wood Products to reproduce.
We always allow a little extra wood for final fitting and trimming on site to allow for imperfections in the paper patterns.
Photo: Custom oak stair treads with a Bordeaux Stain
for a renovation job in Toronto, ON
Email us today with a list of all your requirements and an idea on what type of wood your would like to work with. We'll get right back to you. We are a small company and do take the time to advise you on the right techniques and products for your application.