Mahogany is the most confusing wood of all native and exotic species.
This is true mostly because "mahogany" is the largest family of trees and thus offers so MANY varieties that are commonly available for purchase. They range is colour from pale grey to deep reds and oranges, some with awesome figures and some quite boring and more suited to paintable products.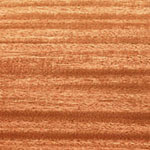 Some mahogany are extremely dense and others are light and stringy like basswood. Some are called mahogany and are NOT really a mahogany at all. Some are called mahogany and then the side bar includes a note that says "but NOT a true mahogany".
So I guess the reason that i share this with you, is to give you an appreciation of the difficulty in matching a generic description of "mahogany wood" with a wood floor that is also described generically as a mahogany hardwood flooring.
From a commercial distribution perspective, I have also noticed that what is being sold today is significantly MORE variable than it has been historically. For this reason, Lacasse has tended to inventory Sapele as our wood of choice when clients ask for a "mahogany".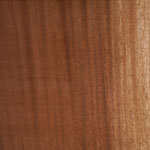 Sapele is ONE tree, NOT a collection of trees as is the industrial classification of "African Mahogany". We have found the colour and density of sapele to be fairly predictable, although as with most exotic woods there is still a range of intensities and shades. The best bet is to bring in a sample of the wood you are trying to match and we'll show you some samples.
(you can see this in the two mahogany pictures to the right.. the top one has much more orange overtones similar to the sapele, and the lower one is much browner.. a common occurrence in the various types of African Mahogany)
Santos Mahogany Stair Treads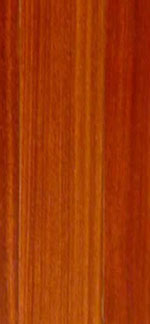 Santos mahogany is a truly gorgeous wood with rich rosy streaks mixed with some bands of colour that border on the colour of toffee. It has a relatively fine grain and sands and finishes to a wonderful sheen. It is somewhat more colour consistent than Brazilian Cherry, at least what I have seen, and more red than orange.
It is particularly dense so even the dog will have a challenge to leave his mark! It tests at a Janka rating of 2200, only slightly less than that of Brazilian cherry at 2300, making it almost twice as dense as our traditional red oak.
As rough wood, it can be somewhat aggressive in twisting, thus requires special care in processing, but is worth the extra effort given it's beautiful rich colours. This does suggest though, that treads should NOT be left unfinished, but rather finished and installed shortly after purchase.
The wood is typically only available in standard 1″ rough-thickness stock, so often it is only possible to make 7/8″ thick Santos mahogany stair treads, rather than the more traditional 1″ thickness. This doesn't really create a problem! Given its density and strength, the thinner tread never creates a structural concern.
Here's a picture of a Santos mahogany tread to the right, to give you an idea on colour and grain pattern….