Custom Mouldings
At Lacasse we have all the technology available to make custom mouldings, that includes the computerize system to make the original plastic template and a specialized grinder that will actually grind the cutting knife that we need to shape the wood.
Profile Knife Grinder:
You can bring us any moulding design profile, pick your wood of choice, and we will make the knife and run the trim to match your needs
– typical knife costs are $350-$600 as a function of size and quantity of knives needed, thus viable for relatively small runs, although maybe not 24′ , but if you REALLY need that specific moulding to finish your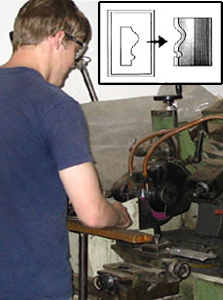 renovation project.. or to match an existing trim you know we can do it, if you're willing to pay the bill.
DESIGN PROCESS:
Create a computer drawing of your pattern
Use that to cut a plastic template
Cut 2-4 pieces of tool steel for each pattern. The number of knives we need is dependant on the sophistication of the pattern and much wood needs to be removed.
Mount template into the grinding machine shown on the left, and mount the tool steel into the moulding head and then it grinds the pattern in the same way that a ordinary key-cutter works.
Labour: Takes about 2-4 hours, depending on the size and complexity of the pattern.
Making the moulding:
This knife then gets loaded into a special tool holder that mounts onto our moulding machine.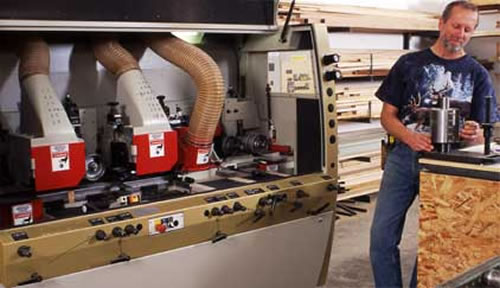 It then takes a certain amount of fiddling, maybe up to an hour to get all the heads set and adjusted to make the pattern according to the original drawing. Usually we need to run 30-40′ of trim before we know that everything is set as needed.
Setting it up the second time for a custom moulding is obviously much easier as we have digital set up gauges that record the precise position of the knives. Once that is recorded, it is just a relatively simple process to dial in their last known locations.
Crown mouldings are always more difficult because they require custom knives on the top and both the left and right to cut the 45° edges.