All these wood railing components are typically carried in stock in maple and oak, some components in poplar for painting applications, poplar often used as a cheaper alternative for basement wall mount railing. Quantities are limited as the design treads has moved to metal spindles and more square handrail, so phone ahead to check inventory.
The grooved handrails are designed to fit with our 1 5/16″  balusters to create a integrated selection of railing parts, so if you are trying to combine this with some old spindles in a renovation project be careful to check the dimensions to make sure the size of the groove will work with your spindles.
#4000 2 5/8″ Colonial Handrail (grooved for 1 5/16″ spindles)

Size: 1 3/4″ x 2 5/8″
Groove: 1 5/16″ for small colonial or square spindles
Lengths: 3-12′, occasionally 14′-16′ long

Size: 5/16″ x 1 5/16″
Lengths: 2-12′ long
Design: to fit handrail #4000
Also available is a square filler  ~9/16″  x  3/8″ thick to fit a groove for standard 1/2″ square metal spindles
#4004   2 5/8″ Flat Bottom Handrail

Size: 1 3/4″ x 2 5/8″
Lengths: 2- 12′, occasionally 14′-16′
Design: No groove so typically designed for dowel-topped spindles or round metal balusters. Holes are drilled in the underside to accept the round end of the wood or metal spindles.
More recently, clients have been using this style of wood handrail with square metal balusters…. adding a groove, after-the-fact, to the underside of the handrail to accommodate the thickness of the metal.
#4003 Modern Square Handrail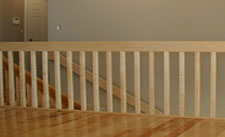 Most common railing design today (2021)

Size: 1 3/4″ * 2 5/8″ (custom sizes possible)

Design: Top 2 edges, small radius
#4230 Shoe Rail (grooved for 1 5/16″ spindles)

Size: 3/4″ x 2 3/4″
Groove: 1 5/16″ uses filler #4210
Application: Use as a bottom rail on the floor to accept the end of the spindles, especially in a retrofit application where you do not have a dowel pin on the end of your spindles.
Availability: We do not stock this today, but do still have the cutters.  It is rarely used. spindles are most often drilled directly into the nosing(#1801 see below). If you need 100′ + we can certainly do a custom run if it makes sense for your application.
#4240 2-Sided Stringer Cap (grooved 1 15/16″ )

Size: 5/8″ x 2 1/2″
Groove: 1 15/16″ (for 1.5″ stringer + two layers of 1/4″ plywood, but since 1/4″ plywood is NOT 1/4″ thick, but rather a thinner metric equivalent) we have made this slightly narrower)
Application: This moulding caps off top edge of exposed stringer and the decorative plywood applied to each side, when both sides of your stringer is exposed. If you stringer is mounted onto a wall, then one side of  this moulding is typically cut off, leaving enough wood to cover the amount of wood exposed.
#1801 4 1/4″ Floor Nosing

Size: 1″ x 4 1/4″
Groove: Designed to match up to  3/4″ mirage hardwood flooring
Application: Used to rim around the hole in a floor, typically part of a handrail …. spindles get drilled directly into this as a base rail ….ie. in lieu of a "base rail". e. …more information on floor mouldings
#3400 Wall Mount Handrail Bracket

Size: new handrail brackets in stock DO NOW comply with new Ontario Building Code Regulations that demand that All wall mounted handrails must have 2″ between the wall and the inside edge of the handrail.
We have these in stock in both red oak and maple. They are predrilled to attach to the wall and to attach to the handrail and require 1/2″ mushroom caps to hide screw holes.