Installing wood flooring on landings between two sets of stairs.
When you are removing old carpet or vinyl tile from your steps and replacing them with hardwood stair treads, then you may also need to address the landing. You could use ceramic tile, or hardwood flooring left over from the main floor, but there are some situations where this is not the best or desired answer.
Here's a few ideas on how to solve the problem.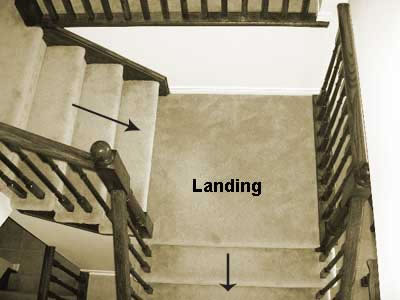 As you can see in the picture, often you have a design with a few steps on the lower level and then a landing and then a few more steps to get to the upper floor… so the landing splits the full run of stairs.
At Lacasse, we have started making 36-60″ strips of hardwood flooring to match the lengths of our hardwood stair treads, to use in just such applications. It would be too difficult to custom fit one large piece of wood, so this gives you a way to create the same look without splicing pieces of traditional hardwood flooring across the length of your landing.
We typically carry  red oak and maple in inventory and can make, on a custom order basis, flooring for this application, in other species.  But I'm getting ahead of myself. Let me share with you the two methods of applying wood of one sort or another to your landing and you'll see where one method might be better than another.
Step One:
Before installing wood flooring on your landing , you need to finished the front edge with floor nosing.  You want it to look exactly like your new Lacasse stair treads. Floor nosing #1801 will do the job. Its a full 1″ diameter as per the standard bullnose on the stair treads.

#1801 stair Nosing- 3 1/4″ on the inside, 4.25″ overall with a 1″ x 1″ front bullnose
Step Two: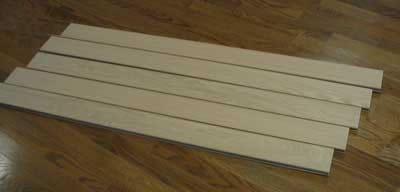 Order and install our unfinished hardwood flooring in lengths that match the length of your landing, typically  36″ – 60″ long pieces
Thus every strip of hardwood flooring runs continuously from the right side of the step to the left. In this way, you will not need to splice any of the flooring and it will end up looking almost exactly like your treads.

The biggest advantage is that then you can stain all your steps, nosing and the unfinished flooring for your landing at the same time….. everything in your hallway will then match.
Do email or fax in your requirements and we will do our best to help you along your way. We are a small company and take the time to find out your needs and recommend the best solutions.