Shipping Custom Wood Stair Treads & Railings to Barrie, Ontario
Shipping hardwood stairs and railings to Barrie, Ontario is pretty easy.
Apex Motor Express bulk ships our hardwood stairs to Toronto and then back hauls them to Barrie Ontario. It takes an extra day but they have proven to be very reliable in transporting our custom wood steps to Barrie and District with a zero damage record in the last 5 years.
We like the fact that we can put all your steps in one package with the vital edges protected on the inside. It can then be moved around with equipment and less likely to get dropped.
With Apex, you have basically two options, either pick it up at the depot, so you're not waiting in for the courier or have them deliver it to a local address.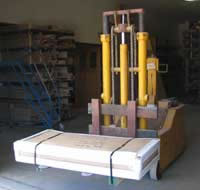 Shipping To The Barrie, ON Apex Motor Express Depot:
The Barrie Apex depot is at 40 Alliance Rd , in the north east side of Barrie (see map below) and they can be held there for you to pick up.
Pricing: $85.00 plus taxes for up to 500lbs
(this is equivalent to more than 40 custom oak wood stairs or some multiple of steps, box newels and/or railings. Barrie homes usually don't use quite that many steps.
We can still use Apex to get your wood treads to a specific Barrie address, but they can then transfer your treads to an "in-town" courier that will deliver to your house.
Pricing: $115.00 plus taxes for up to 500 lbs as a guess to most locations
If you have a business address that you can use, Apex will deliver to a business address in Barrie proper for the same $85.00
To get to the Apex Motor Express Depot in Barrie Ontario, you take the Duckworth St exit (last Barrie exit going north out of town) and go east. Turn south on Bell Farm Rd and very shortly a right on Alliance Blvd. Phone: 705-735-2098
For More Information:
You can fax over a drawing or email and we'll get right back to you with pricing. We custom make these in the sizes, shape and wood that you desire and wholesale them from our factory in the far north, not quite by dogsled but almost — Sudbury, Ontario Canada.